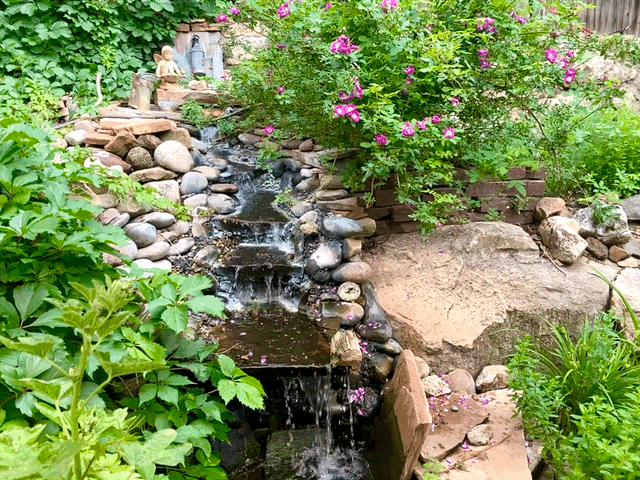 A Unique Vacation Retreat
Center your Northern Arizona visit at this sanctuary. Featuring waterfalls and gardens, it is a unique home, let's says; Woodstock meets Flagstaff (I was a child of the 1960-70's), in a quiet neighborhood, steps from hiking/biking trails, minutes from downtown Flagstaff, and just off the road to Oak Creek and Sedona. Raven's Grotto is a funky, rustic well-loved home. Far from being "new construction", the Grotto is clean, very cozy, and is awaiting your arrival for a relaxed and renewing stay. Queen bed in the back bedroom and a full-size futon/sleeper sofa in the living room. Property is shared with the homeowner who lives next door.
You can easily book your stay at Raven's Grotto online via the reliable and safe commercial booking sites listed below. These sites can accept credit/debit card payment, may provide the ability to split payments across time, and offer other varying protections and benefits for you.
Before; when I went to get insurance they were reluctant to write me a policy because their thought I was just going to burn the place down to collect the insurance. I shrugged the insult off and proceeded to build my nest. Now; it is impossible to see the original structure from this angle as it is nestled behind the aspen trees and my loft and art studio is what you can see from this angle.
I came to Flagstaff, Arizona in the summer of 1976 from a suburb of Chicago, as a shy and insecure college freshman. Since then, I have lived in virtually every area of Flagstaff. But when I moved into this humble abode with my then 10-year-old daughter, I knew we were home. That was in 1992. After renting it for 2 years I asked the landlord if she would sell it to me, and she did, for a mere $30,000.!! I knew I would never be able to afford property in Flagstaff other than this peace of Heaven, I couldn't pass it up!
There was (and still is) something about the energy of the land that compelled me to want to stay here, obviously not the structure itself, though it did have its own rustic charm about it. So for the last 29 years, I have been chipping away at creating this little cozy world. There is a lot of love and creativity absorbed into this place.
​
Now that I have been hosting Raven's Grotto for the past 5 years, my focus has been directed to help my guests feel as comfortable, safe, and at home as possible.
​
I am a creative soul, I have moved through many different mediums, painting, photography, leatherwork, welding, beadwork, stained glass, macrame, sewing, crochet, knitting, carpentry, metalwork, silversmithing, sandblasting, landscaping, rock, and cement work. Besides alway working to improve the grounds around Raven's Grotto, I'm learning how to build out my camper van for camping and extended travel.
​
When I became an empty nester, I didn't want to do the roommate/renter thing. I had heard about this new vacation rental thing and I thought I would give it a try, I'm so happy I did!
I love meeting so many fascinating people. Some come just to relax and beat the heat and others to explore the fascinating surroundings this area has to offer.
So now I live here with Kalo, the corgi border collie mix, Edgar and Allen Poe, the rescued stray cats, and random crows, ravens, hummingbirds, raccoons, and other wildlife that survives in this little community as our surroundings continue to grow and expand.
Edgar Poe, The Not So Elusive
Allen Poe, The Very Elusive
Before I turned this into a vacation rental, it was the home I raised my daughter, Jennifer and grandson, Cameron in. I've lived here 29 years as of 2021. It's a real home, not investment property that is, unfortunately, taking over too much of Flagstaff. You'll feel the love, the creativity, and the mellow vibe of the property as soon as you arrive.
There is just about everything you need in the house to make your stay as comfortable as possible. The kitchen is a real kitchen, When I don't have any bookings I can be found hosting parties and musical events and always some kind of big feast. If you can't find what you need, just ask me and I'll probably have it over here in my loft!
​
I have lived here for almost 45 years and up until a few years ago, it was really easy to predict the weather. That just isn't the case anymore. This year (2021) we had a record-breaking early snow in September! We always welcome the moisture here in the high desert but this was a first!
​
The Key phrase here as far as what to bring for clothing is LAYERS!
​
But for the most part, we have amazing seasons at 7000' above sea level.
​
Raven's Grotto is located in the tiny community of Mountain Dell, within the city limits of Flagstaff, Az., 18 miles south of the sacred San Francisco Peaks (Nuva'tukya'ovi, Hopi), (Dook'o'oosłííd, Navajo)
​
Flagstaff sits atop the Colorado Plateau in Arizona, residing at an elevation of 6931feet (2,112 meters). It is not unusual for people to have misconceptions about the weather here since Arizona in general is known for its deserts. Raven's Grotto and the town of Flagstaff are in an alpine environment far different from the deserts of the south and experience markedly different weather and seasons. Temperatures can commonly and regularly span 30-50 degrees Fahrenheit within every 24 hour period!

Refer to the following link for annual weather statistics by month: Weather.

For a daily forecast tuned to Raven's Grotto's elevation click here.
​
​
To try and be sustainable in this line of business can be a tricky thing, but I try my best...
​
I first started with replacing all the plastic garbage bags with compostable ones. I use earth-friendly soaps in the bathroom and laundry. For cleaning, I use low to no chemical-based products relying on essential oils, hydrogen peroxide, and rubbing alcohol along with high-quality microfiber cleaning cloths from, "H2O at Home".
All my paper products are from a company called, "Who Gives a Crap"
I provide recycling bins for glass and for plastic, paper/cardboard, aluminum, and tin.
One of the biggest and most anticipated events was installing the solar panels! I love the fact that I will now be paid by the electric company to run my household!
Plastic water bottles are a huge waste of non-biodegradable materials. Please don't waste money on cases of bottled water for your stay here! Know that the water that comes directly out of the tap here at Raven's Grotto is incredibly pure and some of the best tasting water around. I suggest if you want to spend money on bottles, buy a reusable water bottle and fill it full of our water to take with you on your adventures. The water comes from a private water company just down the street, directly from a deep limestone aquifer then into storage tanks farm that you can see when you enter Mountain Dell. I also provide a water filter for those who want to use it.
​
Even the gardens are watered with rainwater that has been collected and stored in tanks equalling about 2300 gallons.
​